What Is...
The Future of Money?
Thursday, May 19, 2022
Join us to answer that question, in the public arena hosted by the Munk School of Global Affairs & Public Policy at the University of Toronto partnered with North America's preeminent thought leaders, government officials and captains of industry.
Event Complete, Stay tuned for 2023...
Purpose
Money has built society. As a technology for holding and exchanging value, money has evolved over millennia and is therefore fit-for-purpose. Money is the universal incentive-mechanism that holds society together like glue. But money is changing rapidly as the 21st century takes shape. This change introduces opportunities to reinvent currency and commerce at a foundational level. It offers new capabilities for the evolving role of banking in the consumer value-chain. It presents the promise of greater economic inclusion across the world. But this change also presents peril. It risks undermining centuries of great sacrifice to build the society we have today, imperfect as it is and always a work-in-progress. As such the importance of this topic begs a broad discussion across the public arena. This event seeks to host that conversation. The Future of Money is… now.
Munk School Policy Whitepaper
The Innovation Policy Lab at the Munk School has published a discussion paper to focus our conversation on the key themes of the event entitled, "The Future of Money: Innovation, Regulation, and Trust in Open Banking and Digital Currencies." Each participating organization has chosen a thought leader to participate in the morning roundtable discussion at the Munk School helping to inform the policy recommendations that come out of this event as well as inform the keynote panel conversation.
Munk School Research Paper – Final Version 2.0 now available
Download the Latest Paper
Our lineup of speakers for the keynote panel
Keynote Speakers
Neil McLaughlin
Group Head, Personal & Commercial Banking, Royal Bank of Canada
As Group Head, Personal & Commercial Banking, Neil McLaughlin is responsible for RBC's banking businesses in Canada, the Caribbean and the US, including personal and commercial financial services, credit cards and payments, and digital solutions, as well as RBC's sales and branch distribution, operations and advice centres. He is also responsible for RBC Ventures, the innovation and development group focused on re-imagining the role RBC plays in clients' lives now and for the future, and is a member of RBC Group Executive. Neil joined RBC in 1998 and has held a wide range of senior management and executive positions in Canadian Banking. In 2020, Neil was appointed Chair of the Executive Council of the Canadian Bankers Association and currently serves on the national board of Make-a-Wish Canada and the Sunnybrook Foundation Board of Directors. He holds a Bachelor of Commerce degree and an MBA, and lives in Toronto with his wife and their two children.
Jaime Leverton
CEO, Hut 8
As CEO of Hut 8, Jaime sets the strategic direction for the company that is defining the digital asset revolution. Jaime is passionate about advancing high-growth and future-forward technology companies, most recently serving as the Chief Commercial Officer at eStruxture Data Centers. Her 20-plus years of leadership experience also includes driving revenue programs as General Manager of Canada and APAC, with data center and cloud provider Cogeco Peer 1 (now Aptum). Previously, she held leadership roles with National Bank, BlackBerry, Bell Canada and IBM Canada. She sits on the boards of the Stratford Festival, Technation and ComKids, and serves as the Chair of IMWomen Canada.
Max Bardon
Head of Worldwide Payments, Amazon
Max Bardon leads Amazon's global payments organization, which is responsible for accepting and disbursing funds across Amazon's worldwide footprint of countries and businesses. This includes overseeing the customer experience, cost management, industry partnerships, and security measures for this critical function of the company. He is also responsible for Amazon's multitude of financial products and services including Amazon's many co-brand and private label credit cards, business and consumer installment lending, gift cards, prepaid stored value, Amazon's customer and seller currency conversion business, and the company's Shop with Points program. Prior to Amazon, Max spent 10+ years in growth-stage companies including eight years as CEO of WhitePages.com as well as co-founded GiftCertificates.com
Edward Kholodenko
CEO & Founder, Questrade
Edward Kholodenko is President and CEO of Questrade Financial Group, an independent multi-service financial group that delivers unparalleled value to its clients. Under Edward's leadership, Questrade has become a trailblazer in Canada's financial services industry, spearheading a growing shift to financial technology. Questrade has been awarded Canada's Most Admired Cultures (2018), Canada' Top Small and Medium Employers (2018) and in 2014, Dalbar awarded the firm its highest honour, a seal of excellence for client account reporting. In 2018, Questrade was the recipient of the Dalbar Service Award, which symbolizes the achievement of the highest tier of service to customers within the financial services industry.
Tamara Haasen
President, Input Output Global (Cardano)
Tamara Haasen is the President of Input Output Global, a decentralized technology company with the mission to improve the systems of the world for everyone, everywhere. Input Output Global is the driving force behind the decentralized and smart contract platform, Cardano (ADA). Tamara's educational background includes a specialist degree in Political Science from the University of Toronto as well as a Juris Doctorate from Bond University. Alongside her duties as President of IOG she is co-designing a product management specialist masters program with Carnegie Melon University where she hopes to catalyze the work of emerging blockchain entrepreneurs and product managers.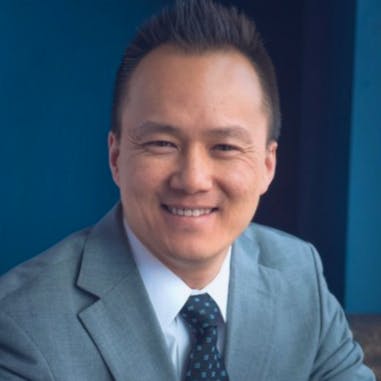 Lawrence Truong
CEO, Binance Canada
Lawrence Truong is the CEO for Binance Canada and UDP for Binance Canada Capital Markets Inc. He holds CFA and CAMS designations as well as MBAs from Queen's University and Cornell University and has over 25 years of experience in financial markets across front and middle office roles with financial institutions, hedge funds, and large corporations. In the capital markets, he traded billions of dollars in spot fx, fixed income and derivatives. Lawrence began his journey on a boat out of Vietnam with his family escaping the crisis in the country as a refugee to Canada in 1979. In the late 90's armed with a Bachelor of Commerce (Finance) from the University of Calgary, he headed to Bay Street where he traded billions of dollars a day as a spot Canada trader at TD Bank. Having spent the last decade in regulatory compliance roles, Lawrence appreciates and values the part regulators and government play in fintech and innovation.
Anthony Di Iorio
Founder & CEO, Decentral Inc. & Jaxx / Co-Founder Ethereum
In late 2013 Anthony funded & co-founded Ethereum, the decentralized smart contract platform that recently reached a market cap of over $400 billion. Currently, he is the CEO of Decentral; a Toronto-based software development company focused on decentralized technologies such as Bitcoin and Ethereum. Founded in 2014, Decentral is the maker of Jaxx Liberty. This digital asset platform has empowered millions of users worldwide with the tools they need to navigate the blockchain ecosystem and be in control of their digital identity, money, and communications. Since 2012, Anthony was a lecturer at the University of Nicosia's Master's program in Digital Currencies and an Adjunct Professor at the University of Toronto Faculty of Law. Anthony distinguished himself as the winner of the EY Emerging Entrepreneur Of The Year Award, a winner of the FinTech Leader of the Year Award, earned a spot on Toronto Life's list of the 50 Most Influential people and was the (part-time) inaugural Chief Digital Officer for the TMX Group, the parent company of The Toronto Stock Exchange.
Peter Loewen
Director, Munk School - Panel Moderator
Professor Peter Loewen is the Director of the University of Toronto's Munk School of Global Affairs and Public Policy. He is cross-appointed to the Munk School and the Department of Political Science. For 2020-2022, he is a Distinguished Visitor at the Institute for Advanced Study at Tel Aviv University. Professor Loewen received his B.A. from Mount Allison University (2002) and his PhD from l'Université de Montréal (2008). He held postdoctoral fellowships at the University of British Columbia and the University of California at San Diego. Since joining the University of Toronto he has held visiting positions including the Center for the Study of Democratic Politics at Princeton University, and the Center for Advanced Study in the Behavioral Sciences at Stanford University.
---
We are supported by these key organizations
Our Sponsors & Partners
Event Stats
This is the inaugural year of The Future of Money (theFOM22) founded to offer a global campfire of ideas where thought leaders can discuss this important topic in an engaging, open-minded public forum.
50+

CEOs & Founders from our industry